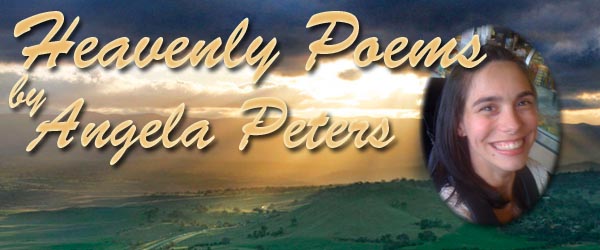 Hi, I'm Angela and welcome to my web site! It is a work in progress so please bear with me.
NEW BOOK ON AMAZON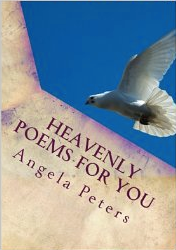 Now you can buy my latest book on Amazon for the Kindle! Just click HERE.
About Me
I was born three months early with Cerebral Palsy at Hurley Hospital in Flint, Michigan. Cerebral Palsy is a medical condition that makes your muscles contract constantly, except for when you are sleeping. I tried taking the medication that will allow the muscles to loosen up when I was younger but the side affects were tremendous. There is now new technology that a pump can be implanted into the body which will distribute medicine when needed. After careful thought I decided against the pump. I have learned over time that the only part of my body that is really tight are my hips. The alternative to taking medicine is to exercise daily. If a person with Cerebral Palsy does not exercise enough their muscles contract and stay tight and the result would be the inability to move that part of your body.
I have two of my original books also available for purchase online. Use the "Add to Cart" button to buy and download them!

Poetry from the Heart is a collection of poems about God and friendship in a downloadable ebook. You will be given a link to download the book after your purchase. Thank you!

Buy Poetry from the Heart - $5

Heavenly Poems is my second book and shares thoughts about my faith and love for God. I hope you enjoy it! You will be given a link to download the book after your purchase. Thank you!

Buy Heavenly Poems - $5
About My Poetry
I showed no interest in writing anything until the age of fifteen. It happened one day when a friend by the name of Heather came over for a visit. We were both in the kitchen hanging out talking about stuff when Heather suggested I should sit down and write my thoughts into poetry. I responded negatively to the idea. With her insistence I went to my room, turned on my computer and I did it! I wrote a poem and have not stopped writing since the year 1997. Two years after the year I started writing poems I was in a depression. I disliked being in a wheelchair. In a nut-shell I didn't like myself and people were mean to me in my first two years of high school. My poem writing from 1997-1998 consisted of writing about young men. Since I didn't like myself I thought by having a "boyfriend" my wheelchair would somehow disappear and I would be like any other teenage girl, because after all, I thought by having a boyfriend I would be accepted.
About My Faith
Over the years I slowly had to learn that Jesus accepts me, my wheelchair and all. At age seventeen I brought my poems out into the open and shared them with friends. My speech teacher in high school (I had to take speech class because of my disability) told me that I could do something with my poems. I now share my poems with people through "Voice Chat" via the internet. I plan to write my poems as long as I live and share them with people. I give God all the glory for my poem writing being what it is today. I now write my poems about Jesus and God. My poems come from God, so God was working on his plan for my life back when I was fifteen. I share my poems with people whenever God opens a door for me to do so. Writing my poems and sharing my testimony and poems with people is God's plan for my life, I know that without a doubt in my mind.
Samples of my Poetry
Below are a few samples of my poetry, I hope you enjoy them.
Sometimes We Need To Be Alone
We like being around people. Sometimes people are not around. We are then forced to be alone in flesh I say "in flesh" because when we are forced to be alone the truth is we are not alone. God is always present, and he promises never to leave us nor forsake us. The bible says : "Lo, I am with you always even until the end of the world". This is God's promise to us that we will never be alone! We can see God thru the things he has made. God wants himself to be real to us I know we can't see God with the human eye, but we can feel him all around us. Sometimes we need to be alone so in that quiet moment we can look around, and say, Yes God is right here with me!
Written by Angela August 25, 2003
Living In A Never Ending Nightmare
Everyday we are living in a nightmare
This world took Jesus out of our society
We took out what is right
by bringing in what is wrong
We are caught in a never ending nightmare
This nightmare caught us in its web slowly
Like a spider spins its web
this nightmare that we live in spins us around over and over again
Stand up for what is right always
Jesus I know there will never be peace until you come
May we be true Christians
Let us live like you want us to
So people can see why we are living in this nightmare
Jesus I wish you were in this society
So that this nightmare never had to began
Written by Angela September 8, 2003
Close To Me
God, you are close to me
Jesus steeped into my heart
Never to escape from my heart
God, you are close to me
The very breath I take proves that you are close to me
God, you put new life into me
Every morning when the sun rises
You are close to me never to go away
Written by Angela September 10th 2003
Peace In My Heart
I have peace in my heart
My heart is at rest
I am ready to go heaven
Where the Angels fly saying Holy, Holy, Holy is the Lord
I am ready to walk on the streets of gold
No more mourning will be in heaven
What will you say to me?
Are you pleased with my life?
I pray you are
Peace is planted in my heart
I will see you when I get to heaven Jesus
Written by Angela March 24, 2003
When I Look In The Mirror Inside Myself
When I look in the mirror inside myself
Help me Lord, to see you inside my heart
I believe you came to die for me on the cross
I am saved from hell forever
So when I look in the mirror inside myself help me to see you Lord
My soul shall never die
Never let your face get foggy
When I look in the mirror inside myself
Written by Angela May 20, 2004
The Peace Of God
The peace of God gives us hope everlasting
The peace of God makes us smile when trouble comes are way
The peace of God tells us everything will be ok
The peace of God is in our hearts safe to stay forever
Written by Angela December 9th 2003

John 14:27 Peace I leave with you, my peace I give unto you: not as the world giveth, give I unto you. Let not your heart be troubled, neither let it be afraid.
In Your Presence Lord
In Your presence Lord all my hurt melts away.
In Your presence Lord all my troubles go away.
In Your presence Lord all I see is You.
God, You love me so much in Your presence,
You want to be with me.
In Your presence happy I am.
In Your presence I am free
From the thoughts that bring me down.
In Your presence I see the light.
In Your presence You are with me;
You listen to me praise You.
God, You love me.
God, Your all I really need.
In Your presence I am free.

Psalm 30:11-12 Thou hast turned for me my mourning into dancing: Thou hast put off my sackcloth, and girded me with gladness; to the end that my glory may sing praise to thee, and not be silent. O LORD my God, I will give thanks unto Thee for ever.
I Walked Away From You
Having nothing but, faith
In God knowing in the end
That everything will be alright
My tears over you went away
I am going a new way
Yes I think about you
Now and again
I love God much more then you
So I had to say goodbye
To see what God has in store for me
That� why I had to say goodbye
Sometimes I cry
You are not with me now
Walking away from you
was the best thing to do
God always knows what to do
So I will never go back to you
Goodbye forever more
Written by Angela August 6, 2006
Thank you for visiting my web page. I hope you enjoy and find meaning in my poems. I'm now in the midst of writing my 3rd book. You may reach me online at heavenlypoems4you@yahoo.com. God bless you!
Readings
I like to go out to coffee shops to read my poetry. Usually I am at the following locations:
Thursdays at Church Hill's in down town Flint at the writier's circle. Sometimes on
Saturdays at the LaCafe in Waterford Michigan on Dixie Highway when I can go.
I'm always looking for new places to read my poetry! Please email me with your ideas I am always happy to hear from new friends!
Thanks again and peace be with you,
Love,
Angela